ALERT: THE CARPORT INDUSTRY IS EXPERIENCING UNPRECEDENTED DEMAND AND LIMITED WORK FORCE DUE TO THE ONGOING IMPACTS OF COVID-19. DELIVERY TIMES HAVE INCREASED IN ALL SERVICE AREAS. WE APPRECIATE YOUR PATIENCE.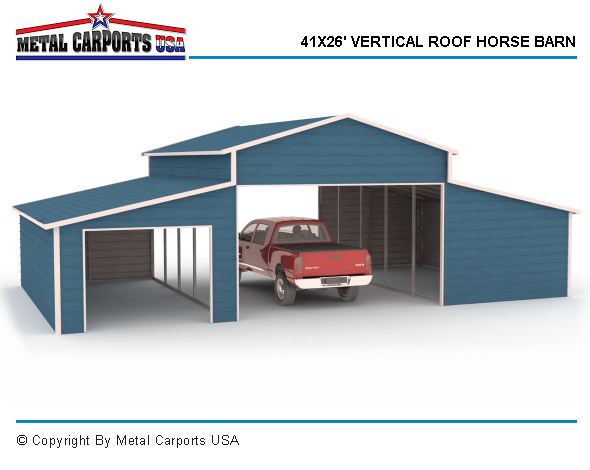 STANDARD FEATURES INCLUDE:
- 12' leg height on center section
- 8' leg height on lean-to's
- Extended gables on front & rear of center structure
- Outside walls of lean-to's are closed
- Front & back end of both lean-to's are closed
- Left lean-to has a 9'x7' door opening on front (no door)

Our Horse Barns come standard with a Horizontal Roof, which means that the roof panels are installed in such a way that the ridges of the roof panels run from front-to-back. You can choose to have the panels installed vertically at an additional charge. Our Horse Barns are fully closed on the back and sides to help keep the blowing rain off your horses and/or equipment. Also, the extended gables on the front & back enhance the look of your barn and provide that "finished" look.


---
Our metal carports and garages are manufactured from the highest quality materials to provide long lasting, maximum protection for your cars, trucks, RV's, boats and any other property that may need protection from the elements.